Jetty Rentals
Take a Virtual Tour!

We are located super close to a lot of fun things. Kayak or PaddleBoard to Snake Island, around Cactus Island and Bird Island.  Take some time to pick shells or look for sharks teeth on one of the islands.  Pack a lunch and explore some of the waterfront parks and water only access parks in Lyons Bay, Dona Bay, and Roberts Bay. Or head out the inlet to the beach!  The launch site is located in a Manatee Zone where we often see dolphin, manatee and a variety of fish and birds. 
Every rental includes a PFD (we have toddler – adult sizes),Paddle, Safety Whistle, Laminated Map for an awesome self-guided experience, and a Mini Intro Lesson for those who are just getting started.  We sell Water-Proof Phone Bags if you would like to bring your phone with you and snap a few pictures!

We Recommend you Bring: Water shoes or sandals, Beverages and snacks, Sun Block, a Beach Towel.
All Renters and occupants of kayaks or paddle boards MUST complete a waiver. 

All minors (under 18 years of age) MUST have a rental waiver signed by parent or legal guardian and presented at time of rental.

  You may fill it out at the time of your rental or CLICK HERE FOR A PRINTABLE WAIVER
Inclement Weather Policy:

Thunderstorms and strong winds and strong tides affect our coastal area at times.  We want every to have a fun and safe time on the water.  We may cancel any reservation or close for the day if weather or water conditions could be potentially dangerous.  Strong currents may restrict certain rentals or hours of operation.  If you are unsure of the conditions for the day please call 941-525-0117.

Single Kayak
Perception Pescador 12.0′
This sit-on-top kayak's versatility makes it popular for both recreational paddlers and anglers.   It's stability makes it easy to get in and out of while still maintaining a high level of maneuverability.  Comfort Seating System with thick ventilated padding for superior support. Quick-adjust Keepers footrests accommodate paddlers of all sizes.  Convenient drink holder keeps your favorite beverage handy and with a max capacity of 375 lb this kayak has plenty of room for you and your gear.  This kayak is outfitted with features that will make a great day on the water whether your a recreational paddler or looking to get hooked on some fish.
Specifications:
Length: 12′
Boat Weight: 64 lbs.
Width: 32.5″
Deck Height: 14.5″
Max Capacity: 375 lbs.
Double Kayak
Perception Tribe Tandem 13.5′
The Tribe 13.5 tandem kayak's versatile 13-foot-6 design makes it a top choice for beginners to intermediates.  Designed to be ultra-stable, yet maintain a quick and playful performance.The entire family will appreciate how easy it is to get on and off this stable sit-on-top and the added jump seat provides the perfect perch for a child or dog.
Specifications:
Length: 13.5′
Boat Weight: 67 lbs.
Width: 33.75″
Deck Height: 17″
Max Capacity: 500 lbs.
Paddle Board
Yolo Yak 11'10"
Produced using the best marine technology available, the YOLO Yak is made of roto-molded polyethylene (just like your favorite sit-atop kayak) and is the most durable multi-use stand up paddle board on the market.  Designed with a recessed deck to provide additional stability, the Yak is suitable for a variety of water pursuits including fishing, crabbing or cruising your favorite flat water spot.  It's extreme stability makes it an excellent board for beginners to intermediate paddlers.  Features include a front bungee tie down system, molded-in keel system, foam traction pad, leash grommet and plug, and both front and rear handles.
Specifications:
Length: 11'10"
Width: 33″
Height: 13″
Weight: 58 lbs.
Max Capacity: 340 lbs.
LOCATION AND DIRECTIONS
Turn west onto Albee Rd from U.S.41. Turn left at Casey Key Rd, keep going until the road ends and turn left. We are right there on the water. Walk-ups are welcome but RESERVATIONS ARE HIGHLY RECOMMENDED.
Book now! Call or text 941-525-0117
1000 S Casey Key Road, Nokomis, FL 34275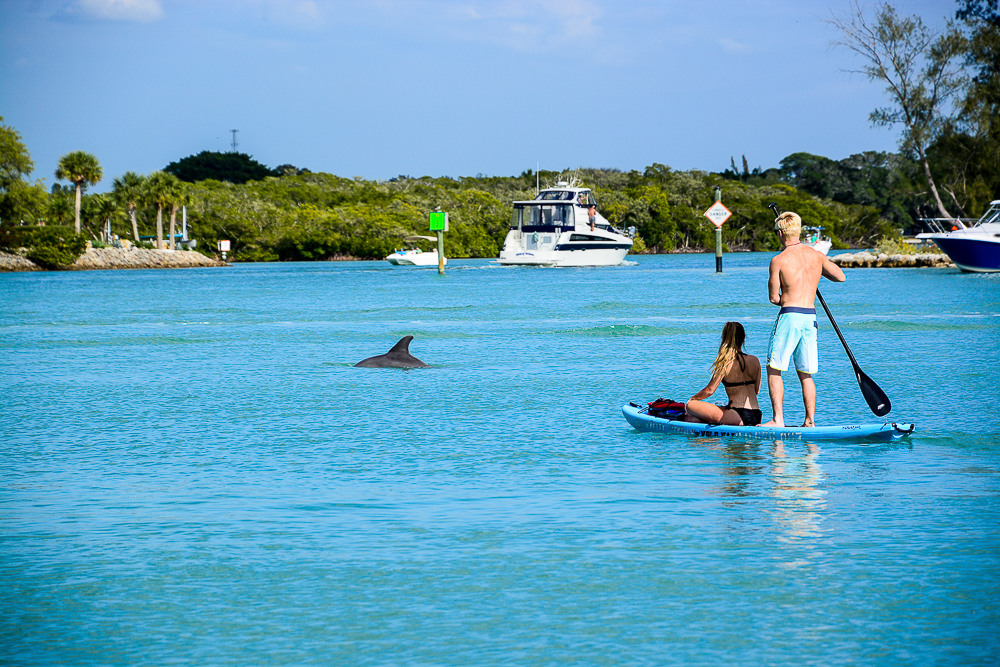 Call for Group Rates! 941-525-0117