Eve Update: Venice Jetty Surf Report: Fri Dec 25, 2020


——————————————————————–
Surf/Weather Report:

Send photos/video/stories to admin@venicejetty.com
Eve Update:

Waves cleaned up and glassed off until 4:30pm but then the wind started blasting again. Fun waves all day. Get up early tomorrow and its gonna be cold. A lot of photos and vid taken today.
9:30am Update:

South is like waist to maybe a chest set on the inside. Wayyyy outside its head high burgers. Because its breaking outside its not working great on the inside but you can still find some fun nugs in there. If you head to any beach break its gonna be thumping. Opening shot from the pier and it looks fun there.
6am Surf and Weather Report:

The buoy is 8ft at 11 secs and the wind is light right now but supposed to start blowing. South Jetty doesn't normally handle bigger swells cause of the stupid artificial reefs they dropped off awhile ago. High tide is at 10:30am, not the strongest tide but could be better from sunrise till then but its gonna be windy too. Gonna be up all day in the gulf head set range what??? Get out there and shred

. =

Indepth Surf Forecast
Friday In-depth surf forecast:

Ice cold wind blowing at us gonna bring some fun waves Friday. Not gonna be the best conditions but some chunky gulf head drops and ramps hopefully. Tides aren't the greatest, not strong tides. Wind looks to be lighter mid day, doesn't correspond with the tide. Jetty not looking like good conditions Friday but you can usually find some fun waves anyway. Best bet for tomorrow? Take a chance at=Indepth Surf Forecast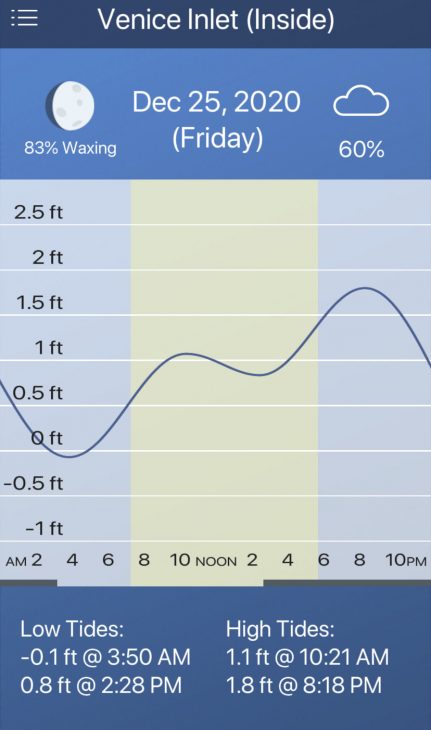 Friday
Mostly sunny, with a high near 60. Breezy, with a northwest wind 14 to 17 mph, with gusts as high as 21 mph.
Friday Night
Partly cloudy, with a low around 37. North northeast wind 10 to 14 mph, with gusts as high as 18 mph.
Saturday
Sunny, with a high near 55. North northeast wind around 11 mph.
Sunday
Sunny, with a high near 67. Northeast wind 7 to 9 mph.

Email us if you want a shirt of the North Jetty or South Jetty Admin@venicejetty.com.
Mens above $25
———————————————————————–
Send fish pics to admin@venicejetty.com Fish of the week gets a free fishing kayak rental. Ask Brian at Nokomis Tackle Shop whats biting!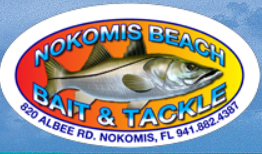 Venice Florida Fishing Report Dec

:

Your Venice Florida fishing report for today is: The fishing has been insane. The water is cooling down, reds are biting along with snook and some snapper. Saw a black drum and a flounder caught too. Snook Redfish and trout catch and release till May 2021. Self-guided kayak fishing available at Jetty rentals at the North Jetty on the south end of Casey Key. 941-525-0117.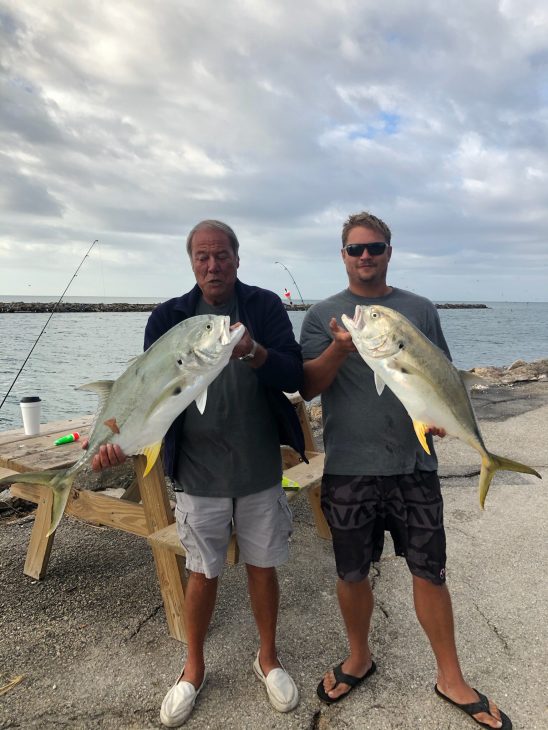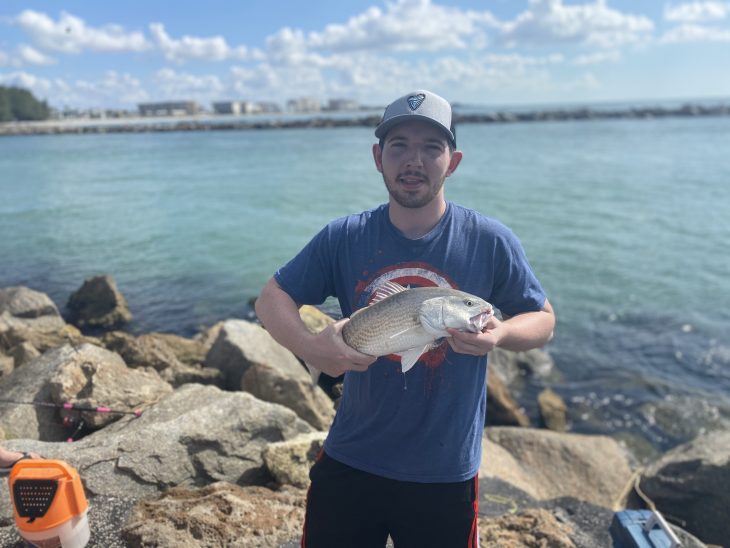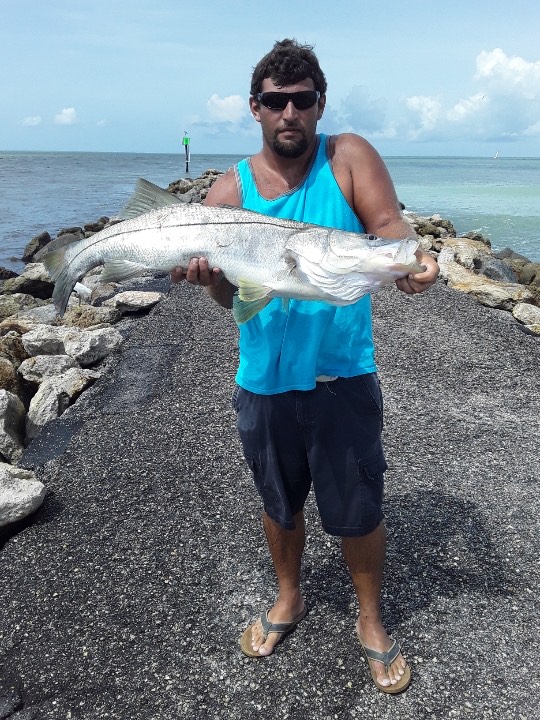 Josh slaying the snook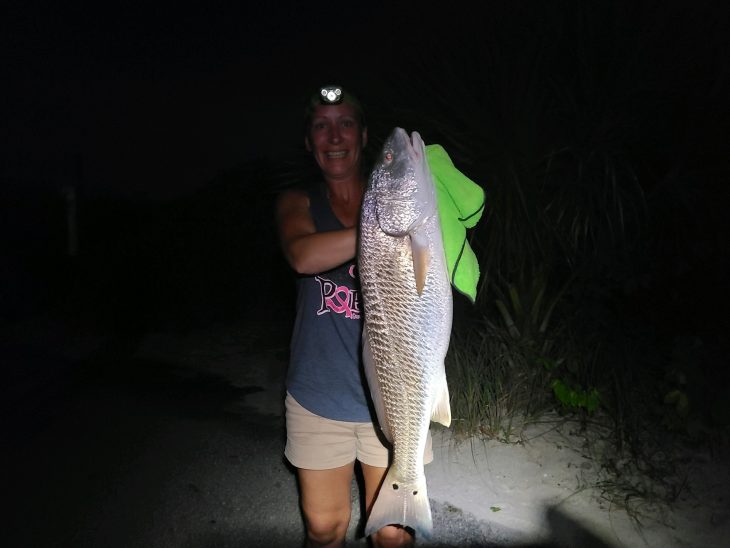 Jen with a beast red!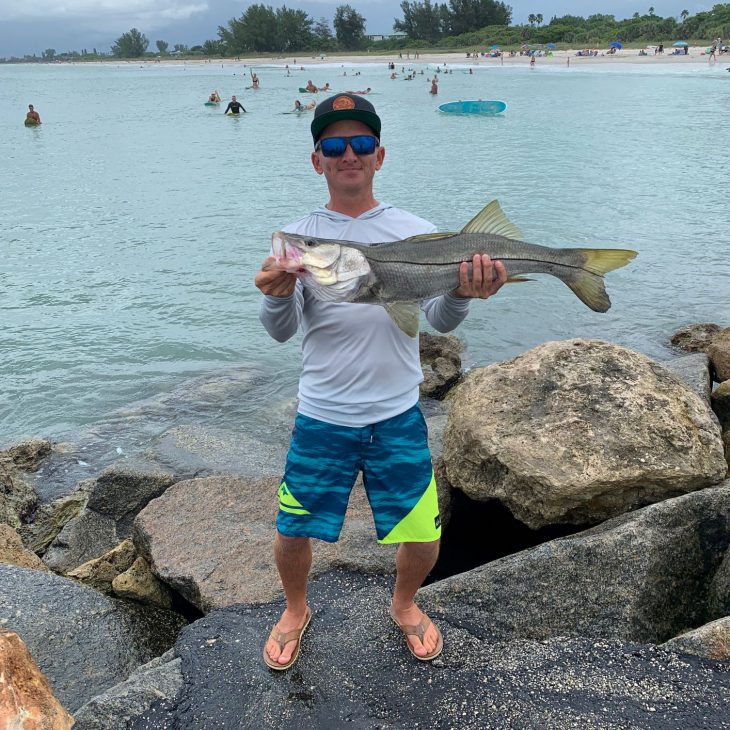 Snook Redfish and Spotted Sea Trout are catch and release till May of 2021.
It's possible that we can hook you up on some fish // Self- Guided Kayak and Paddle Board Fishing Tours // 9415250117
————————————————————————
————————————————————————