Jetty Surf Report: Sunday March 4, 2018
————————————————————————

———————————————————————–
Surf/Weather Report:
Send photos/video/stories to admin@venicejetty.com

Morning Surf Report:

Super cold this morning at 55 degrees. Reeeeaaal small wave continues today, south florida starting to fill in from the winter storm "Riley" swell.  Sunny, with a high near 74. North northeast wind 9 to 13 mph, with gusts as high as 18 mph. Check the Indepth weekly Surf Forecast // Graphs // Link
Get ready for this epic east coast swell by watching the vid of the day
———————————————————————–
Big News!

Hey we just wanted to invite everyone to our GRAND OPENING PARTY AT OUR NEW LOCATION!! Join us March 5th at 4 pm 3604 S.Osprey Ave. Come hang with the Volcom skate team also and enjoy some pizza with the crew.

More info here
———————————————————————–
Florida's Secretary of State Ken Detzner made the announcement about the "unprecedented" 7,000 year-old ancestral burial site.
Full story.
———————————————————————–
Send fish pics to admin@venicejetty.com Fish of the week gets a free kayak fishing rental
3-4-18: Your

Red Hot

Venice Florida fishing report for today is:

Fishing Report:

60 out of 100 on the daily average fishing rating.

Snook season Opened March 1st

. Pompano, blues, mackeral and a lot of sheepshead been biting.

Major fishing times: 1p

m-4pm and from

8P

M-11PM. Guided kayak fishing available at Jetty rentals at the North Jetty on the south end of Casey Key. 941-525-0117
Sheepshead Friday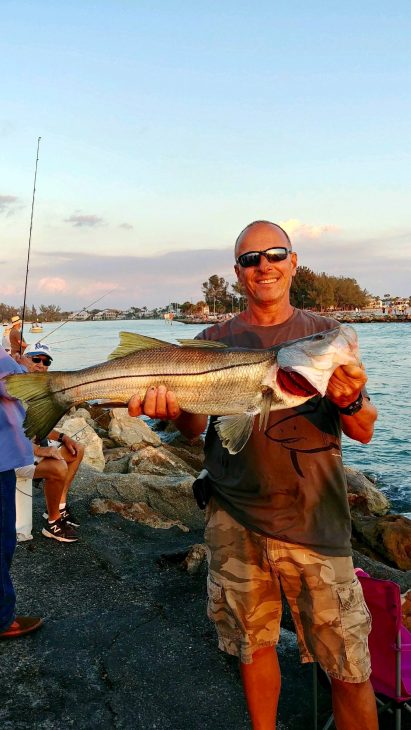 Joe caught this keeper snook the day before season opened
It's possible that we can hook you up on some fish // Kayak and Paddle Board Fishing Tours // 9415250117
————————————————————————
————————————————————————
————————————————————————
1st Place: $20 Compound Gift Card // 2nd Place:: 1 hour rental at Jetty Rentals // 3rd Place: Sticker
CLAIM YOUR PRIZE by emailing admin@venicejetty.com
————————————————————————