Jetty Surf Report: Monday March 5, 2018
————————————————————————

———————————————————————–
Surf/Weather Report:
Send photos/video/stories to admin@venicejetty.com

Morning Surf Report:

Sunny, with a high near 70. Southeast wind 6 to 10 mph becoming west southwest in the afternoon. Looks like the waves will pick up around Wednesday and last through Friday. Then a possible bigger swell will come through Sunday. Go east to surf the best waves Florida has seen in ten years. Check the Indepth weekly Surf Forecast // Graphs // Link
———————————————————————–
Big News!

Hey we just wanted to invite everyone to our GRAND OPENING PARTY AT OUR NEW LOCATION!! Join us March 5th at 4 pm 3604 S.Osprey Ave. Come hang with the Volcom skate team also and enjoy some pizza with the crew.

More info here
———————————————————————–
———————————————————————–
Send fish pics to admin@venicejetty.com Fish of the week gets a free kayak fishing rental
3-5-18: Your

Red Hot

Venice Florida fishing report for today is:

Fishing Report:

27 out of 100 on the daily average fishing rating.

Snook season Opened March 1st

. Pompano, blues, mackeral and a lot of sheepshead been biting.

Major fishing times: 2p

m-6pm and from

9P

M-11PM. Guided kayak fishing available at Jetty rentals at the North Jetty on the south end of Casey Key. 941-525-0117
Pompano Mondays // Thanks for sending in the shot Ron!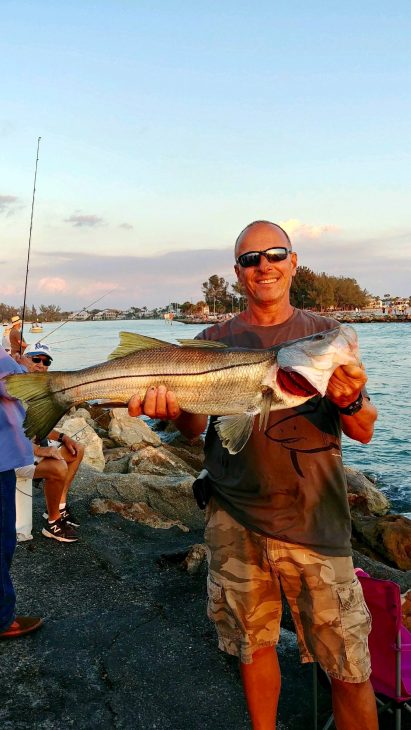 Joe caught this keeper snook the day before season opened
It's possible that we can hook you up on some fish // Kayak and Paddle Board Fishing Tours // 9415250117
————————————————————————
————————————————————————
————————————————————————
1st Place: $20 Compound Gift Card // 2nd Place:: 1 hour rental at Jetty Rentals // 3rd Place: Sticker
CLAIM YOUR PRIZE by emailing admin@venicejetty.com
————————————————————————