Surf Alert Update // Jetty Report: Monday March 13, 2017
Send photos/video to admin@venicejetty.com
————————————————————————
Jetty Rentals:

No

Rentals Today at North Jetty, bad weather // Make a reservation // 941-525-0117

————————————————————————
Surf/Weather

Report:
Updated Surf Report: 

Surf Alert! Wax up your boards! Latest models show the swell coming in tonight from the south and mostly west swell tomorrow. Possibly

chest sets.

Sunrise 7:40am locally. Low tide around 8:20am, high tide around 2pm then low again around 8:45am. There are supposed to be strong north winds first thing in the morning but check the wind first thing in the morning before you make your spot call. Its gonna be up all day today and tomorrow. Change your schedules appropriately.
Spring Break! Going to be a cloudy and rainy day out there today guys. Probably going to really start pouring late today. Looks like a windy day tomorrow and Wednesday also.

If you see a Manatee,Whale or Dolphin in distress or dead call 888-404-3922 and some people with FWC will check em out.
Surf forecast:

The system making its way through the area is looking to be a wave maker. Surf picking up Tuesday, up all day Wednesday and a possible cleanup day Thursday.
Gotta stay in surf shape for the next swell. Just east of the Fish Camp at North Jetty. 941-525-0117 // Jetty Rentals
East Coast Surf Reports:
————————————————————————
Jetty Fishing Report
3-14-17: Catching Pompano, snook, sheepshead and a trout at the Jetty this morning. Heard an 82 year old dude caught a 45 inch snook at the jetty. I saw the shot and am trying to get ahold of it.
Its possible that we can hook you up on some fish// Kayak and Standup Fishing Charters // 9415250117

TB working out there
————————————————————————
Recent Content:
————————————————————————
————————————————————————
News:
————————————————————————
Fantasy Surf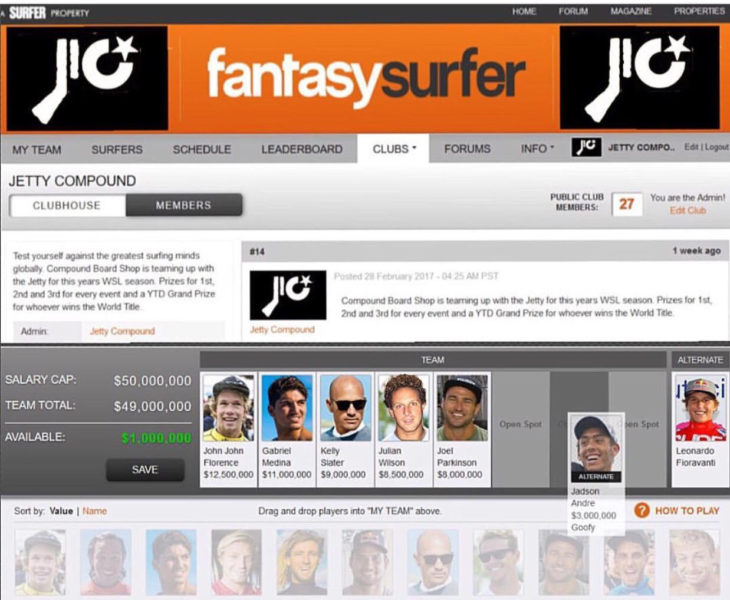 Jetty World Title Winner:
World Title Winner: NJ Surf Photo
Runner Up: Englehood
3rd Place: Bfisch
Jetty Fantasy Pipe Masters winner:
Pipe Master Winner: KennethBishop24
1st place Jetty coozie, 2nd place Jetty sticker, 3rd place nada: email admin@venicejetty.com for prizes
Clubhouse Leaders
Be sure to join Venicejetty.com clubhouse at

fantasysurfer.com

to dominate people and win prizes
There is a tutorial here that even a monkey could follow.
If you like what we're doing on venicejetty.com and want to contribute, donations are very much appreciated!