3M Update: Jetty Report: Friday March 17, 2017
————————————————————————
Send photos/video to admin@venicejetty.com
————————————————————————
Surf/Weather

Report:
3pm Update:

Warming Up out here
10:30AM Update:

Marc is shooting the new Venice Cop Show at Sharkeys Pier this morning. Check it out
8:30AM:

We had some fun waves but Why is it still so cold??? Well enjoy it cause its not gonna be this cold again for like 9 months. Todays highs in the 70's, geez water temp dropped to 66. No surf until possibly mid next week when another front approaches.
If you see a Manatee,Whale or Dolphin in distress or dead call 888-404-3922 and some people with FWC will check em out.
Surf forecast:

Winter conditions in the mornings but'll be warming up. Next chance for surf here is mid next week with upcoming front. They don't normally dip this low this late in the year butyou never know.
Stay tuned.
Gotta stay in surf shape for the next swell. Just east of the Fish Camp at North Jetty. 941-525-0117 // Jetty Rentals you never know.
East Coast Surf Reports:
————————————————————————
Jetty Fishing Report
3-17-17: Fishing is good two days after a cold front so it should start picking up. Heard an 82 year old dude caught a 45 inch snook at the jetty a few days ago. I saw the shot and am trying to get ahold of it.
Found that snook shot!
Its possible that we can hook you up on some fish// Kayak and Standup Fishing Charters // 9415250117
————————————————————————
Recent Content:
————————————————————————
————————————————————————
News:
————————————————————————
Fantasy Surf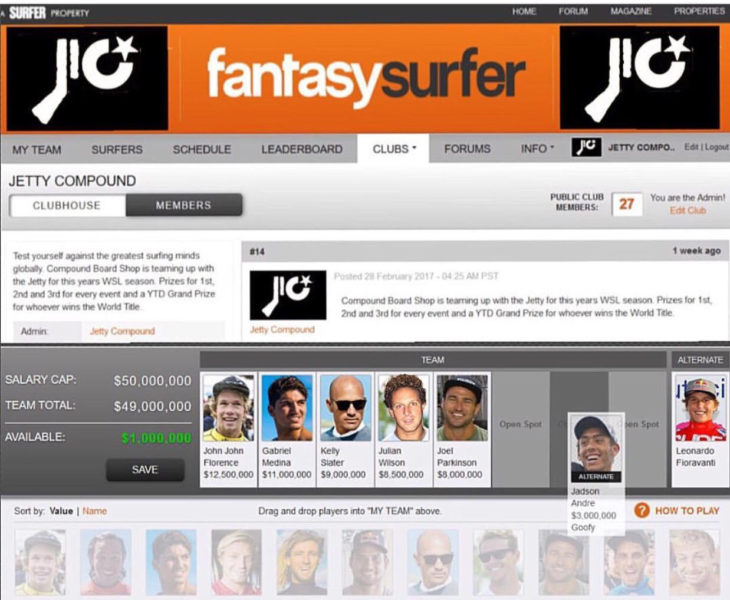 Jetty World Title Winner:
World Title Winner: NJ Surf Photo
Runner Up: Englehood
3rd Place: Bfisch
Jetty Fantasy Pipe Masters winner:
Pipe Master Winner: KennethBishop24
1st place Jetty coozie, 2nd place Jetty sticker, 3rd place nada: email admin@venicejetty.com for prizes
Clubhouse Leaders
Be sure to join Venicejetty.com clubhouse at

fantasysurfer.com

to dominate people and win prizes
There is a tutorial here that even a monkey could follow.
If you like what we're doing on venicejetty.com and want to contribute, donations are very much appreciated!